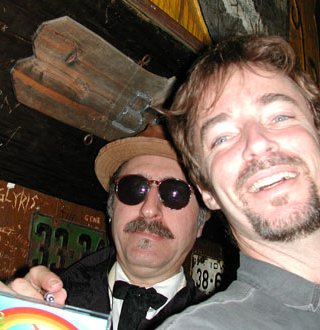 I heard Leon Redbone on the radio when I lived in Houston in the early '80s and rushed out picked up On the Track on cassette. It was nearly twenty years before I got the chance to get him to sign it. Well, actually, he signed the CD that replaced the worn out tape.

Leon is the last great crooner, singing popular songs from a hundred years ago like Polly Wolly Doodle", "Te Na Na" and My Walking Stick.

Of course he's pretty well known, especially by people who have heard of him. But, now, since you're one of the "them", he may be too well known for this page and disappear without a sound.

And, I know some of you are looking at me and Leon thinking, "Damn, that guy looks a lot like Frank Zappa!" Well, one of the following must be the case:
- Frank is dead and Leon is alive, so Leon and Frank ain't the same guy.
- Frank faked his death so he could slow down and persue a single career.
- You're thinking I look like Frank Zappa, which means that something is putting pressure on your brain and it should be checked right away, unless, of course, it's just your job, in which case it's time for a vacation. Have fun.